---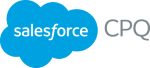 What we love about Salesforce CPQ
After being involved in a number of Salesforce CPQ (Configure, Price, Quote) projects we have been told by our clients it has streamlined their business and sales process.
They are able to guide their sales team intuitively through the CPQ interface to upsell, bundle, select, and quote the right product combinations based on very complex product and pricing rules. This has ensured their customers are receiving accurate products and pricing, whilst also simplying the process of quoting for their sales team.
Previously our clients had to do these types of quotes on manual spreadsheets or in back office systems. Often being unintuitive, inaccurate and very difficult to keep up to date with the new products, product bundles, promotion, discounts and pricing.
We are very excited to be a Salesforce partner implementing the Salesforce CPQ solution. If you are currently looking for a specialised Salesforce CPQ consulting partner talk to us today!