---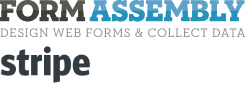 FormAssembly and Stripe Review
We've had a couple of Salesforce clients recently come to us wanting an efficient way for their customers to pay via their website. One was looking for a once off payment for their memberships and donations, and the other was looking to set up a re-occurring monthly credit card payment for their memberships. Both of these clients are also on Salesforce, looking for data to be fed straight into their CRM rather than be re-keyed once or even two times by internal staff. How inefficient is that?
We have successfully implemented a tried and tested solution using FormAssembly. Its seamless ability to integrate within your own website without iframes, and Stripe as the payment gateway to handle both the once off and reoccurring credit card payments.
Now data is entered (all on ONE form, no redirection to PayPal etc.), credit card details are processed and the data goes straight into Salesforce without any internal administration effort….perfect! Not only are their customers happy with the clean and streamlined data entry process, but our clients are happy that they can now focus on growing their membership base further rather than doing administration work.
If your interested in creating a more seamless and integrated payment processing using Stripe and Salesforce, please talk with us today.